B-24 Liberator
RELICS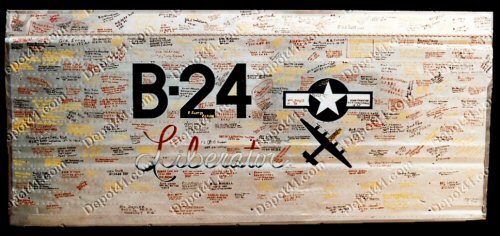 Considering the tons of artifacts in the
Depot 41 Museum Collection,
there's no single piece more awe-inspiring than the 4' X 8-1/2' aluminum assembly above, a Kingman Liberator's left-rear Bomb Bay Door...

In the early 80's, three such Doors were rescued from a Kingman junkyard, one of which had the faint remains of a certain Bomb Group's green stripe (and a Patch that is believed to have once repaired a FLAK or Bullet Hole) is now attached to the underside of the Yankee Air Museum's PB4Y Privateer:
| | |
| --- | --- |
| | (I had to lie on the grass to get this image, hence the pale green reflection) |
The second, possibly from a Liberator of the

784th BS,

466th Bomb Group,

8th Air Force,

still retains a 7" wide yellow stripe running its

length and currently

hangs in our rafters:
The third Bomb Bay Door was the lucky one chosen early in 1989 to be mounted on a custom, rotating stand, then painted with preliminary artwork and taken to the December 1989 San Diego celebration of the 50th Anniversary of the Liberator's first flight, where autographs of B-24 people would be sought (Taking a que from Boeing's B-17G 5 GRAND, North American's B-25H BONES, Douglas' A-20K CABOOSE, and at least two Liberators named V GRAND).
By the end of this historic gathering (hosted by The Liberator Club), over 275 signatures had been applied
to the Bomb Bay Door in paint... signatures from men
& even a few women who had, five decades prior, designed, built, worked on and/or flown in the Liberator, both stateside and in overseas combat. Considered to be historically priceless, this once obscure remnant from an anonymous Kingman bomber is now a main focal point of the
Depot 41 Museum Collection!
Some of the fellas with the Door in San Diego:

Former 15th Air Force,

464th Bomb Group member

and my buddy, Art Rawlings

& me with the Door

and what he wrote on it:

The 93rd Bomb Group's Lt. Col. Norm Watten is seen here applying his name to the Door in San Diego.

A visit by Dorothy Koenig reunited her with the Door and the information she applied a decade earlier in honor of her deceased husband, A.R. Koenig, who navigated Liberators with the 458th BG. Dorothy's been a steadfast supporter and close friend since we first met in 1989.

...And George I. Steinke in 1997, right after he signed the Door in paint

and from whose legendary junk yard it originally came.
RECENT UPDATE !
The Door was carefully loaded into a van for the 400 mile journey north and on February 6, 2011, totally unplanned, but precisely 64 years to the day from when he took his now-famous and historic series of Kingman photographs in 1947, Bill Larkins kindly added his name to the hundreds who have signed this B-24 Bomb Bay Door over the years: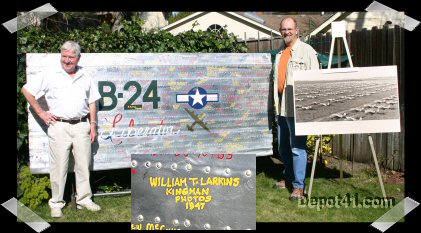 (See also: B-26, B-32 & P-40 Pages)

And, to round out this Page, here's a pair of
Liberator Keys: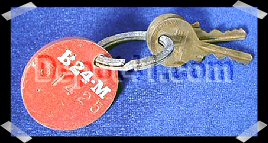 The number stamped on the red fob indicates they belonged to B-24 #44-51425, one of nearly 1700 "M" models that Ford Motor Company cranked out at its Willow Run, Michigan plant during WWII.
This silver bomber was accepted by the USAAF on 4 April 1945 and after a short visit to the St. Paul, Minnesota facility for undisclosed modifications, she spent the next 7+ months in storage before being declared excess. Still an unused aircraft at this point, her final destination was Kingman's Reconstruction Finance Corporation in November of that same year, becoming just one more of around 1000 B-24Ms in the desert surrounding this former Army Air Base.
Some fighters also used keys, such as the P-38 and its Canopy Lock (see the P-38 Page), but of the thousands of keys that came with the Kingman planes, this is the only Set known to survive.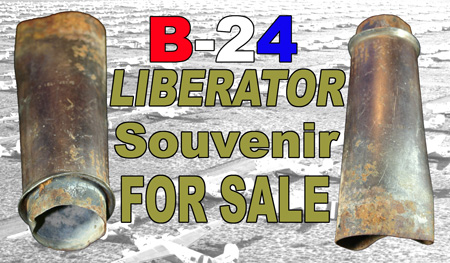 Available here is one B-24 Exhaust Section - officially known as a Port Connector - that once linked the front & rear Collector Rings of a Pratt & Whitney R-1830 Engine. Removed from a Kingman Bomber nearly 70 years ago and discarded during the salvage operation, this 8" long stainless steel Assembly bears part # GK32P 1721

Somewhat bent but still proudly bearing many decades' worth of wonderful patina, the "GK" prefix on this rare souvenir indicates it came off a Ford - Willow Run Liberator.
Comes with a copy of the

1944 B-24 Illustrated Parts Manual page showing where this Port Connector was located on the

1200-hp Pratt & Whitney Engine...
...PLUS a

CERTIFICATE OF ORIGIN stating that this artifact did indeed come from Kingman
- ONE ONLY -
PRICE:
$99.95
U.S. Priority Mail insured delivery & CA Sales Tax ncluded
(additional charge for International shipping, so
please contact DEPOT 41 with your mailing address for a PayPal invoice)
Photo credits this Page:
Frederick A. Johnsen,
Depot 41 Photo Archive
Last revision to Page: 10/2014