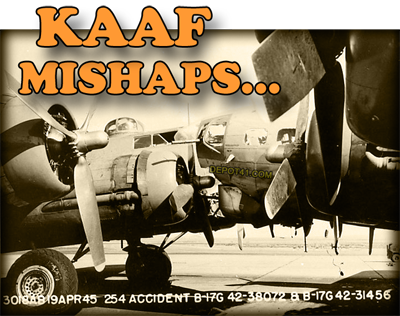 ...during the many phases of Kingman's Army Air Field
"I remember the flag flying at
half-mast nearly all the time."
...As related by several people stationed at Kingman during WWII
While the Fortress-on-Fortress collision above doesn't appear life-threatening, many KAAF day-to-day activities did involve high performance aircraft, dangerous weapons and in one tragic instance, a student-filled bus & speeding locomotive that killed 28 and injured several others: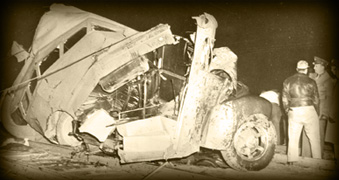 Kingman Army Air Field mechanic and longtime Kingman resident Bill Mizell related to me in the 80s that he was sitting atop a Harley on his way into town and waiting for the train to pass when this bus, filled with students returning from the ground firing range, approached the crossing. He said the bus stopped temporarily, then pulled onto the tracks, when it was struck by the speeding locomotive -

horrifyingly, right in front of him.
It's sphere of influence during the War also included northern Arizona, so from time to time work and/or search details from KAAF were sent to photograph and investigate crashes in that area as well. The towering peaks near Flagstaff would prove deadly for this
| | |
| --- | --- |
| B-17 crew, | as well as for the members of this B-24: |
| | |
Sadly, many eager young men would lose their lives all over Arizona and throughout WWII before they could even get in a single a lick against the Axis.
TB-26 CRASH.....
When Howard Grounds pointed out the general directions
to a post-War P-38 crash site I'd been trying to locate for years, what I came upon, according to my notes, at 7:55 am on 21 July 1989, was a scattering of aluminum blobs, broken plexiglas and still-blackened sand near a wash. A burned & partially-melted skin portion with a 12" circular, screw-fastened access panel was found
and upon closer examination, I could make out the faint remains of the white & blue "Star and Bars" insigina painted on it during the War

.
| | |
| --- | --- |
| Further probing produced a number of artifacts, including a parachute release handle & clamp plus two 1944 pennies | |
...ominous indications with regard to human survival.
These items were gathered, cataloged, then stored for more than a decade when it was eventually decided to perform some more in-depth field investigations into this particular crash site.
Even though we'd visited the spot many times over the years, no definitive evidence had ever been discovered of it's actually being the P-38 I'd originally been searching for... Indeed, many of the artifacts now seemed to indicate this was the site of a B-26 Marauder crash: in addition to several mechanical devices which pointed in that direction, after hours of sleuthing, the starred wing portion above was found to precisely match the bottom side of the Marauder's starboard wing...
a circular Inspection Panel within the Star and Bars insignia can actually be seen

in this image:
Final clues sealing this plane's identity came in an email from Trey Brandt, crash investigator and author, who provided hard evidence that it was in fact a TB-26 that went down shortly after takeoff on a routine KAAF training flight during the Second World War.
Records show both officers managed to escape the burning wreckage, but two enlisted men perished, making this a hallowed spot.
I've recently had the distinct pleasure of talking with the pilot of this Marauder, who went on to fly B-52 Stratofortresses, and he was assured I've always treated this location with utmost respect.
Sales-Storage Depot No. 41
Post-War P-38L CRASH......OOPS!
(the plane I'd originally been looking for)

ACCORDING TO THE CRASH REPORT, on one of the last days in 1945, a 1st Lt. in the U.S. Army Air Forces was ferrying a shiny silver P-38L from McClellan Field, Sacramento into Kingman when the tower granted him permission for a high-speed & very low 'tactical approach' over the runway. After pulling up, he lowered the fighter's landing gear, whereupon both the right, then left engines stopped running. Panicked hands on fighter's main fuel tank selectors proved no help for either of the Lightning's Allisons, so the pilot was forced to set the 7 ton 'glider' down in the desert east of the Airfield.
Although the once-beautiful silver fighter was broken into several pieces, it should be said the Lieutenant performed a skillful landing because this 26 year old pilot actually walked away from the wreckage.
However, a subsequent investigation revealed the accident to be pilot error, for both auxiliary fuel tanks were found to be full...
Now, one could fault this fella for negligence in destroying the P-38 - which was probably going to be salvaged anyway - but I choose to reason, had there been no crash, there'd be no survivng artifacts, such as the above 9 ft. Boom Section above,
this pair of propeller

distributors

(the one on the right still wearing the remains of its formerly-aerodynamic fairing)
or this Supercharger Oil Tank, which, once in a while, still leaks clear oil

...
(In spite of the fact that the fighter was an L, the tank's data plate is stamped Consolidated-Vultee Nashville MODEL P-38J... this Tank had been left over from when that factory was merely producing Lightning sub-assemblies. C-V N went on to build 113 complete L models before the contract was terminated.)
Several other items from this wreck, along with the Boom Section, have recently been crated and are stored with tons of other priceless Kingman artifacts in the
Depot 41 Museum Collection.
Only 9 Days after the P-38 crash,
a C-46 Commando full of ferry pilots and their luggage (on their way out of Kingman)
bellied-in a

couple of miles south of the runway. These dogtags stamped with the name RANDOLPH LOTT

were passed my way in the 1980's
and because of the melted aluminum on the chain, once again it didn't look good for the wearer. I'd never had much luck finding leads to information on this individual, but a copy of the Crash Report provided by Mr. Brandt showed that all aboard the Curtiss Commando escaped without serious injuries. It seems the dogtags had been packed 'safely' away in this fella's travel bag, down inside the plane's unique, lower-level compartment!
Debris from one of the Commando's
Wright Cyclone R-2600 engines: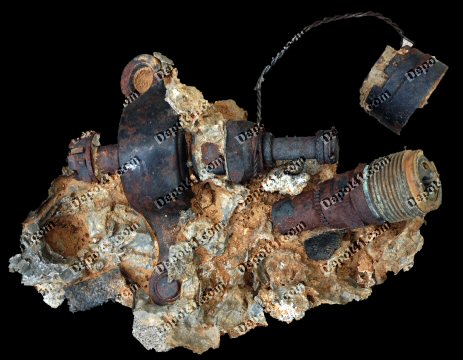 Amongst the melted aluminum, one can see a Spark Plug (r), Rocker Arm (l) and still attached to the Rosie The Riveter-affixed Safety Wire are the Push Rod Tube remains!
Once the Kingman planes
were sold, yet another crash:
Details on this incident are a bit sketchy, but some say the pilot was attempting to take off in a blinding rain when the unsecured load shifted, causing the plane to stall just off the end of the runway.
The crash reportedly killed everyone onboard, including W. B. Bricker, head of one of the many businesses making piles of money from the destruction of the USAAF planes.
A 1947 Mohave County Miner headline read:
"B-18 CRASHES LAST SATURDAY HANDLING INSTRUMENTS FROM SALVAGED PLANES"
Along with many Horizon & Directional Gyro Instrument 'blobs' like the one above,
the Depot 41 Museum Collection has several scorched brass fire extinguishers, also from the crash, plus unused business cards, invoices & purchase orders from Bricker's business, AIRCRAFT AVIATION SPECIALISTS.
photo credits this page:
Vern Heaton Collection via Maude Heaton,
Roy Bierman, Depot 41 Archive
Special thanks to Trey Brandt for information
regarding the Kingman crashes!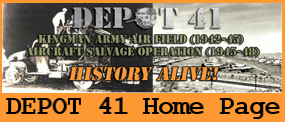 © 2007 - 2023 Depot 41 All Rights Reserved