Indoor / Outdoor
Storage Methods & Results
The following is a unique study
of some fine artifacts in the
Depot 41 Museum Collection
juxtaposed to their less-than-pampered counterparts showing the effects
of decades' worth of Arizona weather and various other forces:
Indoor Outdoor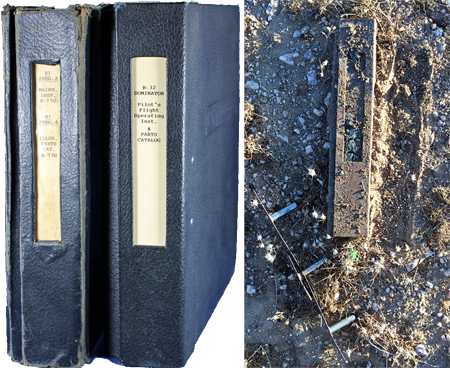 USAAF Manual Binder
(Left) Still in use today. (Right) Pages long since rotted away,
one has to wonder what information it once contained . . .
AS-27/ARN-5 ANTENNA
This dual-purpose Antenna (mounted on a bomber's upper fuselage either fore or aft of the cockpit) served the Localizer & Glide Path Receivers, both used in Instrument Approach Landings.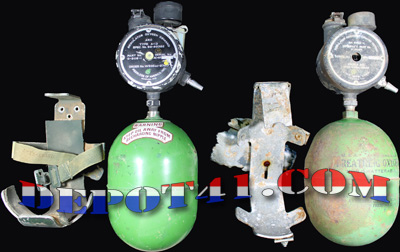 'Walkaround' Oxygen Bottle
These allowed crewmembers to disconnect from the main oxygen port at their particular station and move more freely about the Bomber. Both Brackets wear B-24 Liberator part numbers, as does the decal on the left Bottle. Partially-melted Bracket on the right is another artifact that was very near Furnace flames at one point.
B-17 Cheek Gun

TENSION SPRING

Via bulkhead-attached cables, these large Spring/Pulley Assys provided counterbalance for the heavy hand-held .50 Cal Brownings on both sides of the Flying Fortress' nose.

Unit at left is nearly as nice as when it was extracted almost 70 years ago; Right unit clearly had not been removed from the bomber prior to the Blade's slicing through that out-of-luck B-17's forward section.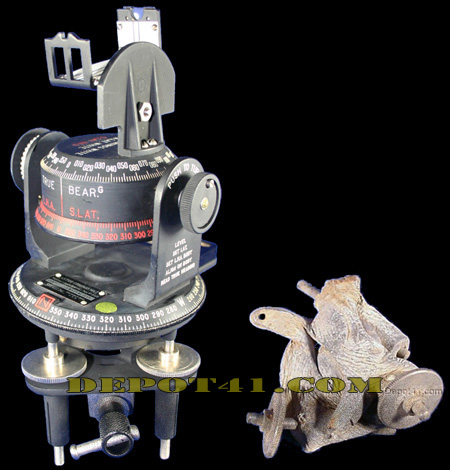 Astro Compass
Found in larger airplanes such as Transports and Bombers, this Navigational instrument was used to obtain a true heading of the aircraft. Pristine unit on the left appears to have seen little use; Astro Compass on the right got very, very close to the flames in one of Kingman's three furnaces, but not close enough to melt it completely unrecognizable.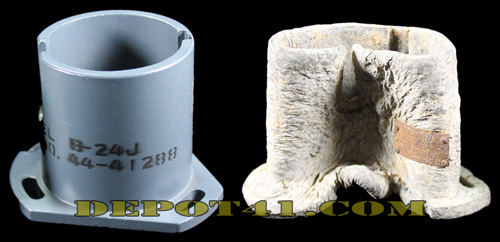 Astro Compass BASE STANDARD
Also known as a mount, this is what the Astro Compass locks into at the Navigator's station. The near-blob (r) is another KAAF relic that got extremely close to furnace flames.
The pristine unit on the left, stenciled with MODEL B-24J AC. NO. 44-41288, was considered for years to be a Kingman Liberator's artifact. Its Record Card, however, indicates this bomber was transformed into a Navy PB4Y-1 and Internet information shows that she carried nose art with the name SLIDIN HOME: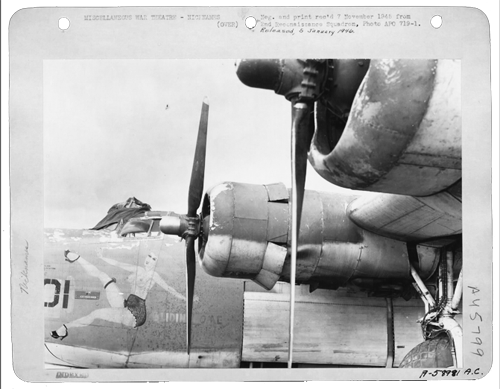 Final disposition info on this Privateer is a bit ambiguous, so, coupled with other Kingman PB4Y-marked evidence, lots of questions remain that will probably never be answered...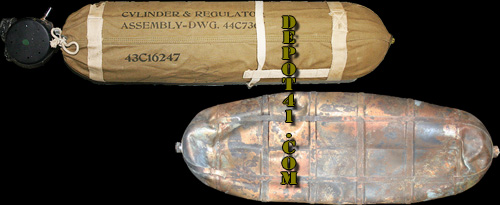 D-2 Oxygen Cylinder
The tank on the left appears as though it could have been removed from the Bomber yesterday; the right one displays effects of furnace flames & heavy weight piled on, possibly while it was still hot.

B-17 Marker Antenna MAST
Also part of the Instrument Approach system, Assy on left is as removed from a Kingman Flying Fortress, complete with SERVICEABLE PART TAG. Right one was broken off, no doubt by Depot 41 workers either for fun and/or to prevent another head pranging! Unlike the left one that has it painted in black over the gray paint, this one has the B-17 part number stamped into bare aluminum. Note its Antenna Wire remnants.

B-25 Hydraulic Accumulator Assy
Even though the weathered unit had been in outdoor storage up until it's rescue in the 1980s, this bomber artifact still drips Mitchell hydraulic fluid...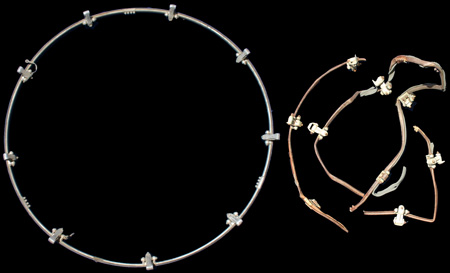 B-17 Engine Cowl Anti-Drag Ring Assembly
Left: Gently removed from a Flying Fortress and properly stored for the past 7 decades.
Right: Not gently removed from a Bomber and not properly stored for the past 7 decades.
AN-104-A ANTENNA

Part of the SCR-522 Radio Set found in all sorts of USAAF (& USN) planes, unlike similar Mast Antennas that were sheathed in copper, all the finer AN-104-As in the

DEPOT 41 Museum Collection

tested with a magnet proved to be sheathed in IRON,
as did the badly corroded AN-104-A on the right. At Kingman, antennas were hastily removed by Depot 41 crews, evidenced by the hacked remains of some unfortunate bomber or fighter's skin still attached to the left assy.

USAAF FLYERS GOGGLES
Type B-8 and No. 1065, the latter pulled out of a Kingman Bomber and discarded by Depot 41 workers some seven decades ago.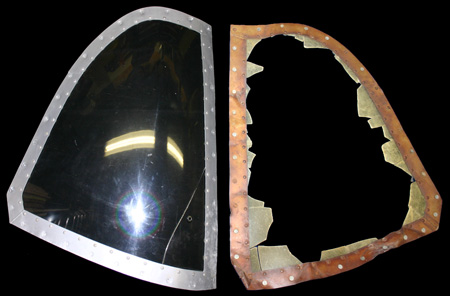 P-38 Lightning Rear Window
...some of these beautiful ships made it back out of Kingman; many didn't
G-11 M.G. Firing Solenoid
For remotely-operated machine guns, these attached to the 50 Cal's Buffer and electronically activated the gun's trigger. Unit on left was made by Magnavox Co.

Flying Fortress Wing Flap Actuator
One of several such Assemblies per wing, the still-greasy left unit was carefully unbolted from a Kingman Bomber while the right one was found in Guillotine Area debris that never made it into the smelter. Note remains of the actual wing.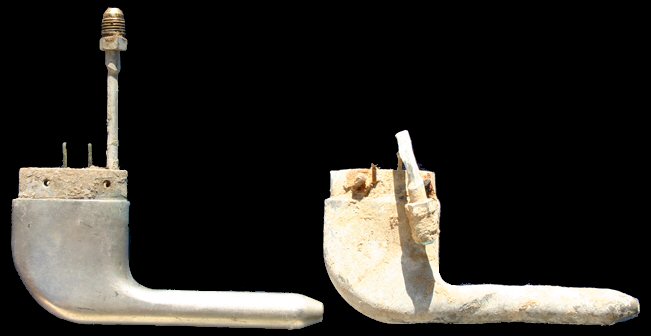 AN 5812-1 or Type G-2 Airspeed Pitot Tube
This device protruded from the airplane's fuselage or wing and provided impact and static pressures for instrument operation.

AN 5816-2 Airspeed Pitot Tube
NOS & "seen better days"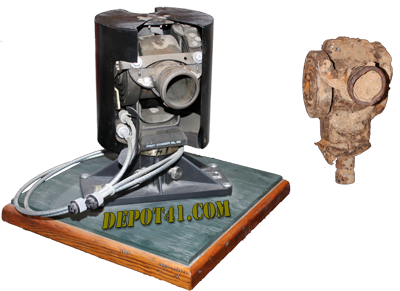 Bomber Waist Gun
SWIVEL MOUNT
Mint K-7 on left was used in conjunction with the K-13 Compensating Gunsight. Flexible shafts connected the Mount to the Sight so the latter would 'know' which direction the Machine Gun was pointing.
Kingman relic on right may be from a K-5, K-6 or K-7 Swivel Mount
I'M LOOKING FOR A C-19 ADAPTER TO GO WITH MY E-13 MACHINE GUN MOUNT, IF ANYONE OUT THERE KNOWS OF ONE . . .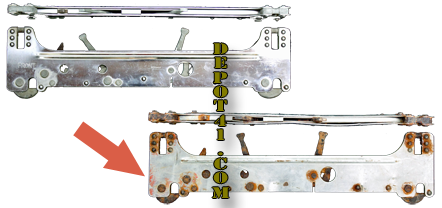 Bomb Shackle, Type B-7
100-1100 lbs
Notice red paint remnants - not rust - on the left (FRONT) end of the lower unit; proper installation was critical.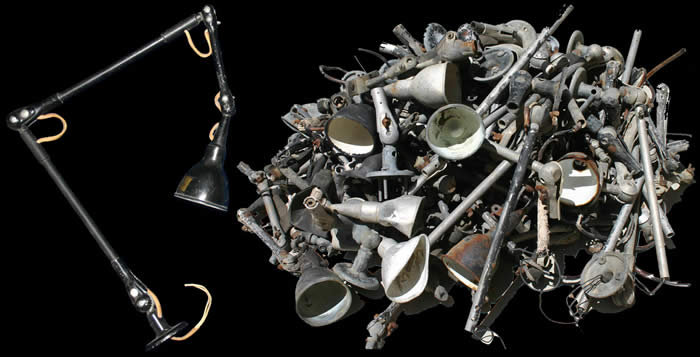 "Elbow" Lamp
As new and "some" restoration required; These adjustable Lamps were mounted at Navigator & Radio Operator stations.

Lower Ball Turret
AMMO LOADING DOOR
Found in only slightly better condition than the right one, technically the left assy was also once an OUTDOOR artifact, but in the 80s it was straightened a bit & painted so I could have Ball Turret Gunners sign it:
Wilbur Richardson / 94th Bomb Group
Dick Bowman / 96th Bomb Group
Paul F. Sink / 493rd Bomb Group
John H. Shirley / 96th Bomb Group
Ed Jenkins / 99th Bomb Group
John L. Hurd / 401st Bomb Group
Warren Hartung / 463rd Bomb Group
Sperry A-1A & A-1B Upper Turret

FOOTREST ASSY

Assy on left looks like it could have been removed yesterday.

Since these folded up to allow passage through the turret, the mangled remnant at right might have still been inside the cockpit when the Blade sliced through its unlucky B-17.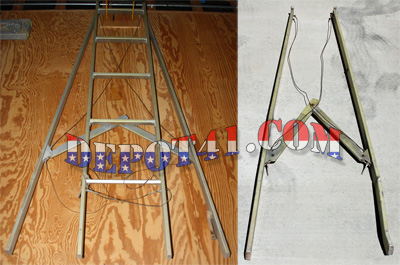 B-17 FRONT ENTRANCE & NACELLE LADDER
Ladder on left was still being used by my friend George Steinke when I first saw it back in the 80s; partial Assy on right was found in another Kingman junkyard around the same time.
photo credits this page:
Depot 41 Photo Archive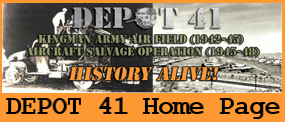 © 2007 - 2023 Depot 41 All Rights Reserved