Considering that, out of some 5500 USAAF
planes at Kingman, there may not have been even a dozen Warhawks...
... What, then, are the odds the
Depot 41 Museum Collection
would end up with the Pilot's Instrument Panel
from X-894 in Bill Larkins' image above?...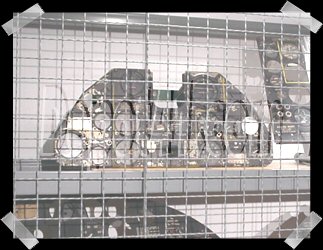 Not yet having been extracted from the Curtiss fighter, that very Panel can be
seen behind the N-3 series Gunsight in this 1947 close-up: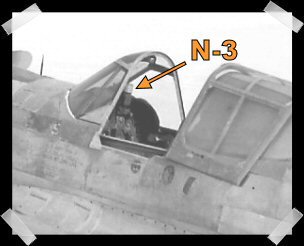 Electronic

pattern

projected in

the pilot's

line of sight

by an N-3C:

Photo Above:

Post seen on the cowling ahead of the windscreen is the auxiliary Bead Sight
For some reason, this particular
Warhawk captured Bill Larkins' special attention, because along with two
side portraits he also shot her data block stenciled below the cockpit: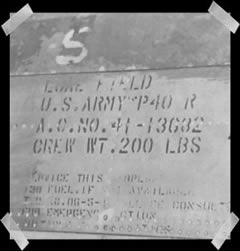 LUKE FIELD is discernable, but there's some question as to whether the letter preceding
"P-40 R" is the remnants of a T or R.
Because of the irregular spacing, whatever was there seems to have been applied sometime after the original lettering.
Further, the meaning of the large, brush-applied S or 5 above the block is
yet another mystery...
According to its Aircraft Record Card,
P-40R #41-13682 was delivered as a P-40F in March of 1942 coincidentally the very same month the U.S. Army Air Forces officially became an autonomous command, having been renamed from the former
U.S. Army Air Corps nearly 9 months before in June of 1941.
P-40F Warhawks were to receive the Packard Rolls-Royce V-1650-1 engine, but
that exceptional powerplant was never produced in sufficient numbers, so those
Fs built with the standard Allison V-1710s were reassigned the R suffix.
Additional Record Card data on
P-40R #41-13682
- originally assigned to the 20th Pursuit Group
- 3-20-43 suffered a left gear collapse upon landing at Northern Field, Tullahoma TN
with 2nd Lt. Loren A. Delp clutching the controls
- 12-43 to Luke Field, AZ and eventually redesignated RP-40R
(R for "restricted use")
- 10-24-45 declared surplus and assigned to Kingman for disposal; flew the short hop
from Luke Field near Phoenix to Sales-Storage Depot No.41
...Now, the next time you watch the 1943 movie A GUY NAMED JOE, please pay close attention during the Luke Field scenes and see if you can find X-894 for me..
- IN THE MEANTIME -
This center spread from Luke's Class of 44-A yearbook SiR! displays several of X-894's sister ship's on the flightline with Luke Field code X (l to r): P-40 X-860, P-40 X-890, P-40 X-866 and P-40 X-833: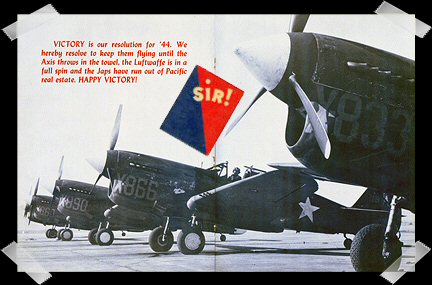 While these Warhawks appear to have had white prop spinners, unlike X-894, they still retain their full olive drab-over-gray paint & star-in-blue-circle national insignia (As one can see from the image at the top of this page, X-894 was curiously devoid of at least fuselage insignia on her bare aluminum and her spinner may have been yellow. Plus, the tail assy appears to have been left OD. NOTE: these colors are pure conjecture on my part).
RECENT UPDATE !
On February 6, 2011, totally unplanned, but precisely 64 years to the day from when he took his
now-famous and historic series of Kingman photographs in 1947, Bill Larkins autographed the wing of a replica P-40R (built by my son Brian), the original of which was among the Sales-Storage Depot No. 41 planes Bill recorded on film: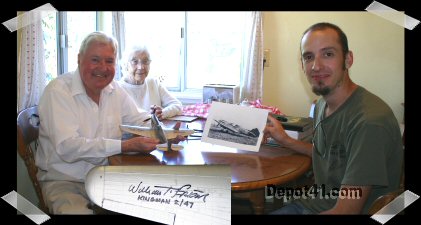 Bill Larkins, his patient wife Tillie and my son Brian, who's been my companion for most of the Kingman Army Air Field forays since he was first able to walk and who's been a tremendous help with both its documentation & his technical website expertise.
photo credits this Page:
William T. Larkins,
Depot 41 Photo Archive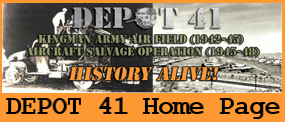 © 2007 - 2023 Depot 41 All Rights Reserved