Being somewhat of a college-educated, weightlifting younger brother to the P-39, the Kingcobra was a series improvement that never made it into combat with the U.S. Army Air Forces...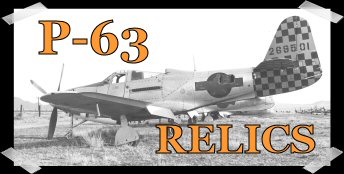 Kingcobras were lined up along the railroad tracks at Sales-Storage Depot No.41 and, as can be seen in this 1947 photo, the dismantlers just couldn't wait to get their hands on them. Stripped of her nose wheel and something - possibly radio equipment - having been extracted from her waist via the molested panel, flashy checkerboard paint on
RP-63A-9-BE #42-69501 indicates a Wartime Pyote Army Air Field assignment.
Incidentally, that Texas base also stored surplus aircraft after WWII, but showing how equipment was inefficiently shuffled around the post-War nation, at east one of PAAF's planes ended up at Kingman. Conversely, it's believed the aircraft used at KAAF during the War were assigned to other salvage depots for disposal . . .

P-63 artifacts in the
Depot 41 Museum Collection...
...included this right hand Door

from this

olive

Kingcobra:
Now, any full coat of paint being unusual for a P-63, this ship also sported a colorful lightning bolt surrounding the spinner then stretching to the middle of the door. Look closely at the left photo above; the arrow points to the remains of that 'bolt' on the opposite side...
In the early 80's and shortly before coming across this pivotal photo of the plane, the Door had already been hastily donated to a well-known Southern California airplane museum. Reapproaching the museum's owner with news of the photo, I was bluntly told the Door had
disappeared from their possession...
In any event, another, bare aluminum
P-63 Door still remains safe & sound in the
Depot 41 Museum Collection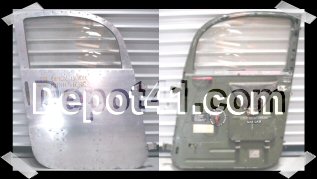 Yet one more favorite Cobra item
in the Collection is this DETROLA 'Ferry' Radio:
| | |
| --- | --- |
| | These relatively small units operated solely on Stateside frequencies and while they were commonly found in military planes crisscrossing the country, this particular Radio has a lower Bracket with the Bell P-63 part number ... it was pulled out of the cockpit of a Kingman fighter prior to its being melted. |
Me & Ivan Hickman at the 1991 KAAF Reunion in front of my trailered Lower Ball Turret. Ivan was a Kingman Service Pilot,
where he flew the Kingcobra. The object in our hands is the Detrola Radio from a P-63 described above. Ivan passed away in the 90s, but he chronicled his flying career in the form of this excellent and informative softbound

OPERATION PINBALL

The USAAF's secret aerial gunnery program in WWII

published 1990:

39 pound, 2-1/2" thick cockpit Armor Glass Assembly from a Kingman P-63 Kingcobra: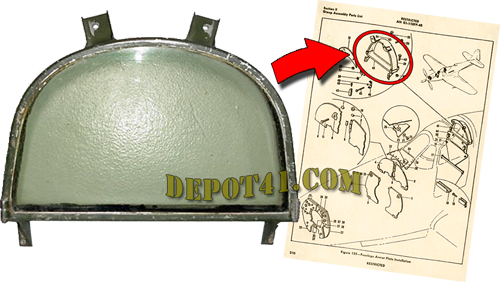 photo credits this page:
William T. Larkins,
Depot 41 Photo Archive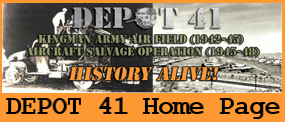 © 2007 - 2023 Depot 41 All Rights Reserved